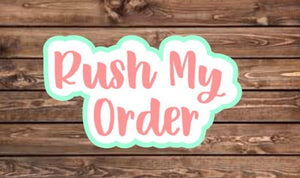 Rush Processing - Next Business Day Shipping
Need to ensure your order ships the next business day?  Add this upgrade to your order, making sure to select the appropriate carrier option - USPS or UPS.  
The added rush processing cost for UPS shipping is due to the fact that UPS shipments require a pick up fee from the carrier, when we are unable to coordinate with UPS deliveries, so if your order is shipping UPS and you need rush processing it's imperative that you select the correct carrier option within this listing.
If you purchase items marked as on order, sold out or backordered with this listing those items will be cancelled and you will need to purchase them separately.